Shop our Healthy Holiday Boutique
Whether you are looking for the perfect Healthy gift for your loved ones or stocking up for yourself, we've got you covered with exclusive Holiday value sets this season!
Shop Now
Our Healthy Deals
Daily Promotions
- Free Ground Shipping (US) on all orders over $50

- View all ON SALE items here…
Shop Now
Dirty Dozen Detox Guide: 12 Harmful Ingredients to Avoid
Unlock the secrets to a fresher, healthier you with our exclusive digital download.
Get a curated blacklist of ingredients

Uncover the hidden danger in everyday products

Decode labels to understand what chemical names really mean
Enter your email and phone number below and get 'Dirty Dozen Detox Guide' for FREE.
Thank you for subscribing!
Additional content you get!
Detox action plan

Perfume and deodorants comparison chart

Customer testimonials

Self-care tips

FAQs addressing common inquiries

Harmful ingredients explanation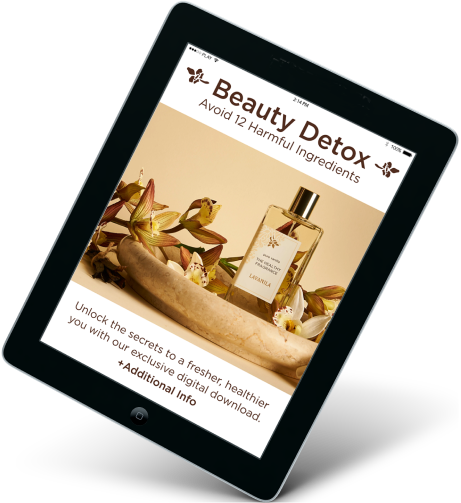 As Seen in These Key Retailers







01.
The Healthy Deodorant Sport Luxe
Looking for a great, natural deodorant that actually works? The sport luxe solid by @lavanilalabs works like nothing I've tried before. Holds up all day and through my workouts and is not sticky...glides on like a dry solid. Plus it smells AMAZING!
— @skinbyjessie
Shop Now
01 / 03
02.
The Healthy Deodorant Vanilla + Water
Literally the happiest girl when finding clean beauty products. I made the switch to natural deodorants years ago but I'd go from brand to brand looking for one that would actually work - until I recently came across Lavanila.
— @karlajordan3
Shop Now
02 / 03
03.
The Healthy Deodorant Vanilla Summer
I've had a really hard time finding a clean deo that I love. I have tried so many great ones, but usually end up having a reaction. This one doesn't contain baking soda and doesn't irritate me one bit! This limited addition scent, called Vanilla Summer, has been my favorite so far!
— @kendrasteelebeauty
Shop Now
03 / 03